MESSAGE FROM FCD's EXECUTIVE DIRECTOR
2017-2018 has marked another year of big efforts and big successes for FCD. No doubt the Chiquibul-Maya Mountains is a complicated area to manage and conserve; however, with the support of multiple partners and donors we have been better in grappling with the challenges.
This year, the research work conducted by FCD's Research team has been able to demonstrate by numbers that we are finally seeing recovery of wildlife and forests across the Chiquibul landscape. Our interventions are, therefore, working. At the forefront to the stabilization of this condition are the park rangers. Working together with the Belize Defence Force, Police Department and Forest Department personnel, the patrols and control systems against incursions at conservation posts have been central and pivotal of an undertaking by the FCD Park Ranger Unit. The focus of our attention has been largely the western flank of the park, but FCD remains clear that protecting the Chiquibul Forest, means being alert all around the periphery of the park, namely its buffer zone. In this regard, FCD has made a strategic move this year by engaging private partnerships.
Working with private institutions outside the borders of Chiquibul, has made a landscape management perspective more doable. And with the endorsement of the Ministry responsible for Protected Areas, the concept is becoming more practical. The Vaca and the Mountain Pine Ridge Forest Reserve buffers the Chiquibul. Partners there include the Belize Electric Company Limited, Pine Lumber Company Limited and Vaca local farmers.
This year has also seen core results and impacts by other FCD field staff. The Karst Management Unit has become avid in inventoring the Chiquibul Caverns; Las Cuevas Research Station started to investigate more on areas of tourism and public use, the Education Program was extended to Belize City and Peten, the FCD youth movement was invigorated and replicated in Melchor, Guatemala, and the first Park Ranger Junior program was launched.
The achievements of an organization are only possible through its staff, and for this I am indebted and thankful to all the staff that make a sacrifice on a daily basis to protect the richness and uniqueness of this country. Our work is also possible due to the support given by the donors and sponsors. These supporters believe in the cause for a better world and it is under this duress that FCD maintains its conservation effort in good standing and effective due diligence.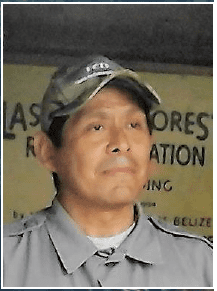 Rafael Manzanero
Executive Director